Drawing the Docs
You have two options for drawing docs: request JMAC to draw your loan docs or draw your own loan docs. Choose either Option A or Option B listed below.
Option A: Requesting Docs from JMAC
When your loan is Clear to Close, you will complete the Doc Order Form to request JMAC to issue Docs. If not previously provided, you will need to include the following documentation with your Doc Order Form:
A. Updated Estimated Settlement Statement/Preliminary CD
B. LE, COC, Initial CD, Initial CD Receipt Form & Final CD (if applicable)
C. Evidence of Insurance
D. All Invoices: Credit Report(s), Appraisal(s), HOA, Property Taxes, etc
E. Trust Cert of POA (if applicable)
F. Preliminary Title Report
The loan status will change to Docs Ordered. When the Doc Drawer emails the docs to the assigned Processor, the loan status will change to Docs Out.
Option B: Requesting Your Own Docs
If you will be generating your own documents, please make sure that your fees match our Approved Fee List.
Uploading Purchase Review Documents
Once the docs are signed, upload them to documents and submit for Purchase Review. To upload your purchase review documents, click Loan Documents from loan navigation.
IMPORTANT: We are not automatically notified when these documents are uploaded.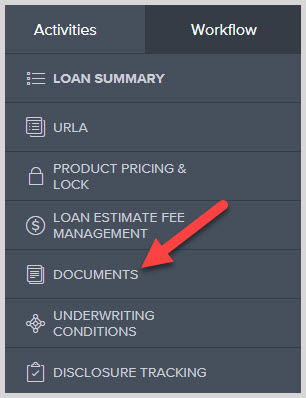 You can Drag and Drop or click Browse for files on the document labeled, *Upload Loan Package.
IMPORTANT: Your uploaded documents will be split into the appropriate document type once you save the loan. You will no longer see your previous upload in *Upload Loan Package.

Submitting for Purchase Review
When all documents have been uploaded, click Request Purchase Review under Loan Actions.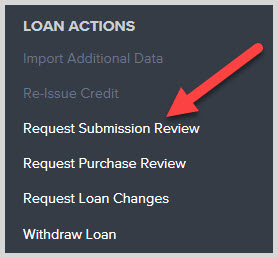 Click Continue to confirm the purchase review request.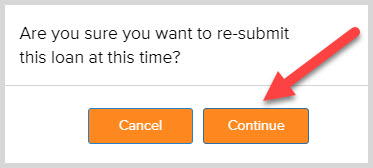 What's Next
The loan status will be updated to Purchase Review Submitted. Our credit, compliance and purchase auditors will review the file and determine if any suspense conditions are required to purchase.
To learn more about the purchasing process, please read Step 7: Requesting Suspense Condition Review.