Requesting a Lock
From the loan navigation, click Product Pricing & Lock. To request a lock, your loan must already be priced. To learn more about this process, review Pricing Your Loan.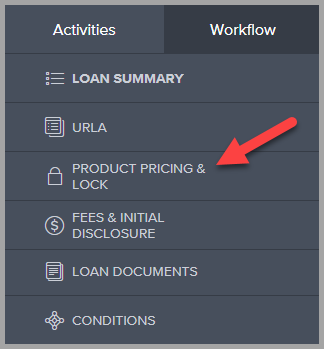 If your loan has already been priced, you will land on the Info tab, showing your pricing details. Scroll down to the Lock Information section, then click Request Lock.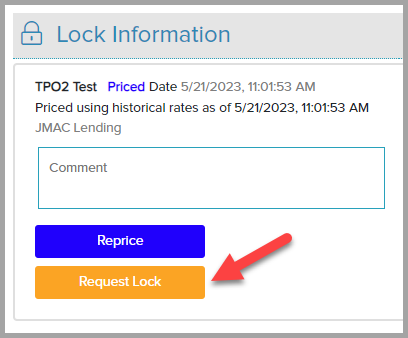 Click Confirm to complete the lock request.

Important: You may receive an error if the pricing is stale. If this happens, you'll need to reprice your loan first. You can read more about this process in the Repricing Your Loan section of Pricing a Loan.
Your lock status will update to Locked. Locks are automatically confirmed, but Lock Desk will review for any compliance issues or exceptions and reach out if necessary.
Important: The lock cutoff is at 4pm Pacific for Jumbo, Non-QM, Adjustable Rate (ARM), and Second Mortgage. Lock confirmations for these programs after 4pm are VOID and must be relocked the next business day.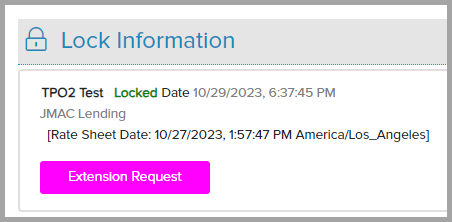 The lock confirmation will be uploaded to the loan shortly after it's closed. An email notification will be sent to the Loan Officer and Processor once this occurs. The lock confirmation can then be accessed on Documents page under Lock Confirmation.

Viewing Pricing After Lock
After making a lock request, you are no longer to reprice your loan. However, it's possible to view the pricing for a loan scenario after lock. To do so, click on the Pricing tab at the top of the page.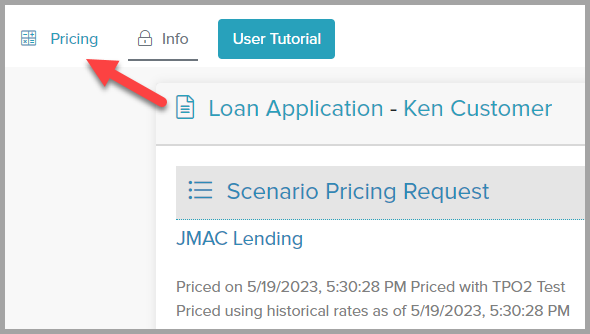 This will open the pricing page, displaying current day pricing for your loan. This is view only and you cannot take any actions. For additional information on pricing a loan scenario, please view Pricing a Loan.
Requesting an Extension
Once your loan is locked, you may request an extension at cost by clicking on the Extension Request button.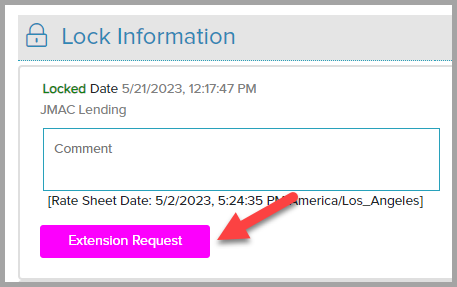 On the pop-up window, click the dropdown for Lock Extension Request to see all available options. The example below is choosing to extend for 10 days at a cost of .250 points.
Once you've made your selection, click the Confirm.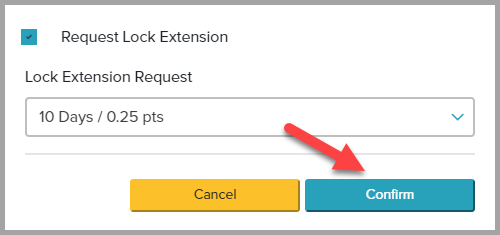 The lock status will update to Extension Requested and require confirmation from our Lock Desk.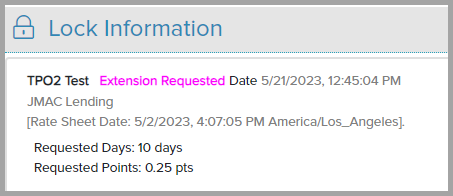 Once the extension is confirmed, the lock status will update to Locked and our Lock Desk will send an updated lock confirmation with the new lock terms. Any further extensions may be requested following the same steps.
Pre-Locking
A lock is considered a pre-lock if it is requested before initial underwriting approval. Pre-locks are available on specific products depending on your company's pull-through ratio.
To pre-lock a loan, follow the same steps as outlined above in the Requesting a Lock section. If you have any questions regarding pre-locks, please contact our Lock Desk by email at lockdesk@jmaclending.com or by phone at (949) 390-2687.