Uploading Submission Documents
Video Tutorial
Step By Step Tutorial
After your initial Loan Estimate has been delivered, you can begin the submission process by uploading your loan documents. Click Documents from loan navigation.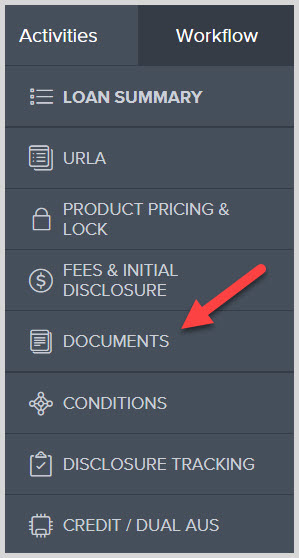 You can Drag and Drop or click Browse for files on the document labeled, *Upload Loan Package.
IMPORTANT: Your uploaded documents will be split into the appropriate document type once you save the loan.

Requesting Document Check and Loan Submission
When all submission documents have been uploaded, click Submit Loan from Loan Actions.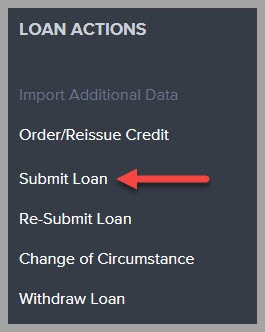 What's Next
Submission Desk Review
Your loan status will update to Sent to Submissions, which indicates that the Submission Desk will review your loan package before underwriting. Reviews are done based on our turn times.
If they encounter any issues or missing documents, our team will email Loan Officer and Processor. Your loan status will also change to Submission Incomplete, which indicates that there are outstanding items required for submission.
Additional Review for Jumbo & Non-Agency Loans
For Jumbo or Non-Agency submissions, a Loan Coordinator will ensure all program-specific income, asset, and documentation requirements are met prior to underwriting. The turn times for initial decisions is posted online.
Submitted to Underwriting Review
Once all required submission documents have been reviewed and verified, your loan status will be updated to Submitted. The turn times for initial decisions is posted online and begins when the loan status is Submitted.
Next, our underwriting assistants will index your loan files to prepare for initial underwriting, and our underwriter will review for initial decision. For more information about loan statuses, read Defining Wholesale Loan Status.
To learn more about conditions, read more Step 5: Requesting Underwriting Condition Review.